You all said:
"What a fabulous course!"
"I never knew this was here!"
"I'd forgotten just how good this is!"
And last but not least - an email received today:
Hi Tony , played my first ever event with Teetours last week at Walmley G.C. - what a fantastic golf course. Thank you for organising the event , it was one of the most enjoyable days I have experienced in my forty years playing golf .
Sincere thanks, Mike Edge.
I say:
Wonderful Walmley has been revitalised and continues to progress, I am pleased to report. There have been various changes in the role of course manager over recent years but this has been far from detrimental. Methods of golf course management evolve with the influence of progressive, professional bodies like the Sports Turf Research Institute from Bingley in Yorkshire and the British & International Golf Greenkeepers Association.
It is important for course management teams to keep abreast of the latest methods and a change of staff and leadership often opens the minds of the team as a whole. Walmley's team are to be thoroughly congratulated on their general presentation, which is winning high praise this year and most specifically thanked for the special effort they put in for Teetours last Friday. I heard nothing but plaudits for their achievement.
Tim Gilpin made us particularly welcome and 98 competitors managed to stay dry on a day that failed to deliver its promise of persistent rain.
It has taken me a week to compose this report and I'm sure some of you have think I've been slacking. The truth of the matter is unpleasant and I have postponed my missive in order to recover from the upset, gather my thoughts and write in a calm, considered way.
For the first time since starting Teetours I had to reprimand a player for ungentlemanly conduct.
On handing in his teams' scorecard he asked me what was leading.
"Ninety two" I told him.
Without looking at the card, he was volubly detrimental about the score. He declared that the players concerned needed cutting. I informed him that, should they win, they would be cut by one shot for the rest of the season. Not content with my explanation, he persisted in caustically denouncing their score to the point where I had to tell him to stop - not once, but three times. I told him that if the society was not run to his liking he should not attend in future.
"Right" he said "I wont". Not content with this he carried on to the point of upsetting the team that had posted the score of ninety two and happened to be sitting on the next table.
Finally, a member of his own team told him to stop.
I received a half-heated apology from the man who sought to excuse his behaviour on the basis of being a golf club handicap secretary.
I have taken professional advice about this. Two independent golf professionals have scrutinised the card in detail and both declared that none of the players would be subject to a handicap reduction. The score of 20 under was far from uncommon since the introduction of the 90% rule. One of the professionals questioned had played in a Pro-Am event last Friday at Northampton and the winning score was 23 under.
The team had dovetailed perfectly. As we all know that is what happens in sport; it is how amateur teams become giant-killers in the F.A. cup; not because they are harbouring some undiscovered Peles or Beckhams, but because they are on a roll and it happens to be their time.
Two of the players in the winning team, Lee Nightingale and Justin Goodby are both Hagley members and frequent Teetours players. Justin has come down 1 shot in the last 7 months from 15 to 14. Lee has come down from 9.8 to 5 and spends two hours on the practice ground before every competition. They are young men in the prime of their golfing career and they are the future of the sport. The last thing they need is to be exposed to uninformed derogation of their efforts.
There are over one thousand registered members of Teetours now and I am honoured to be part of an organisation that was appraised by Matt Hickman, winner of the 2016 Order of Merit in an email to me this week as follows:
"Well done for organising such a great society to play in, there's no pressure and everyone's friendly; just the way it should be on the golf course".
And that's the way it will be - because people who do not play in the true spirit of the game are not welcome.
I have posted the winning card below ( inked in by me personally for legibility ) so that you can all make your own judgment.
Many thanks for your support.
Tony.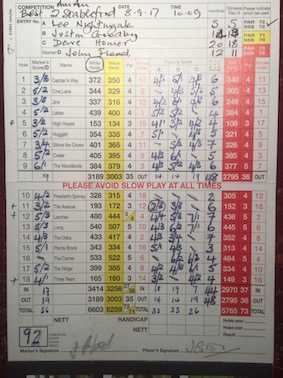 Pos

Player Pairings

Points

O.O.M.

Prize

1

Lee Nightingale; Justin Goodby; Dave Homer; John Flood

92

12

Siegal Special Reserve Carmenere

2

Russ Rice; Rob Nutt, Steve & Dan Brighmore

85

10

Fitou Domaine Sainte Anne

3

Gary Thompson; Paul Byrne; Ben Azam; Dennis Palmer

85

8

Fitou Domaine Sainte Anne

4

Steve Deehan; John King; Mick King; Bob Peoples

83

6

Carta Rosa Crianza

5

Matt Cheffins; Tom butler; Lee Bailey; Henry Narraway

83

4

Carta Rosa Crianza

6

Rob Oakes; Chris Johnson; Tony Fearing; Tony Davis

83

2

Carta Rosa Crianza

7=

Charlie Insley; Will Rawbon; Robert Fenn; Gary Haslam

82

7=

Richard Manning; Louise Manning; Trevor Stanley; Peter Fisher

82

7=

Alan McPeake; Robin Upton; Ken Storer; ProScore

82

10=

Stuart Bond; Kevin Marlow; Jonathan Fraser; Alan Lewis

81

10=

Mike Wittin; Kevin Wittin; Ada Odenall; Peter Clarke

81

10=

Martin Davis; Steve Gee; Kevin Cooper; Steve Letts

81

13

Lee Hill; Darren George; Mike Smith; ProScore

79

14=

Nick Fogarty; Brian Aston; Andy Shiell; Jon Magson

78

14=

John Hewitt; Steve Jennings; Michael Rook; Michael Edge

78

16

Dave Rogers James Rogers Lew Bull Adrian Harris

75

17=

Mark Atkins; Ian Cairns; John Poole & Paul Burke

73

17=

Nigel Broomfield; Ken Lewis; Simon Hartwell; James Gilman

73

19

Alan Moreley; Trevor Heath; Lenny Mudd; Tony Clements

72

20

David Goss; Mike Carver; Terry Farmer; Robert Smalley

71

21=

Steve Fountain Phil Wilson, Richard Davis, Michael Whitehouse

70

21=

Dave Evans; John Bedward; Alan Palmer; Kieth Buckley

70

22

Steve Pidcock; Ian Mahon; Ian Storer; Sue Maine

69

23

Tony Boyer x 1 Chris Bartlett x 1 Martin Wood & Allan Coombes

68

24

Ian Buckley; John Southall; Steve Segnitz;Daniel Macleish

67

Russ Rice

Longest Drive

Fitou Domaine Sainte Anne

Ken Lewis

Nearest pin 5

Fitou Domaine Sainte Anne

Lee Nightingale

Nearest pin 11

Fitou Domaine Sainte Anne

Ian Storer

Nearest pin 12

12 x Titleist NXT

Two's - Paid in Wine or Harvest Pale 500cl bottles.

Lee Nightingale; Steve Jennings; Ian Storer; Darren George; Ken Lewis; James Gilman; Adrian Harris; Trevor Stanley; Robin Fenn; Russ Rice