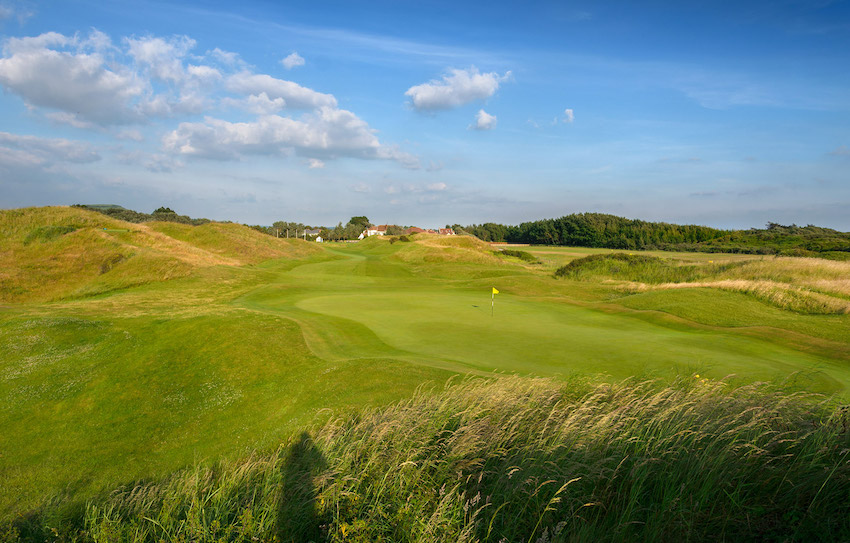 Sorry - This event is full at the moment

Please send an email to go on the reserve list.
Burnham & Berrow 6-7 July 2021
Limited to just

16 teams
£190 / player (£760 / team)
---
Teetours trip to the seaside in 2021.
Burnham & Berrow - "Twenty Seven quality links holes, set among the towering sand dunes on the Bristol Channel coast"

The Championship Course has for over a century been the venue for many prestigious golfing events, from the British Ladies Amateur Championships, the Brabazon, the Tillman Trophy, the British Boys and English Championships…

The Channel Course is one of the hidden jewels of the South West.
- If there's a better 9-hole links course in England I want to play it.
Tuesday 6th July:

Buffet lunch will be served on arrival from 11.45am
13.06 - 15:21 18 holes of golf on the Championship Course
Overnight accomodation in one of the family run hotels close to the course.
Wednesday 7th July:
07:50 - 09:50 Full English Breakfast at the golf club
09.00 - 11.00 9 holes on the Channel Course
11:30 - 13:30 Light lunch
12:30 - 14:51 18 holes of golf on the Championship Course


19:30 Prize giving and departure.
---
Limited to just
16 teams
£760 per team of 4
Based on 2 sharing a twin room - £23 per person single supplement.
A £100 per team deposit is payable at the time of booking.

The remaining £660 per team is payable on April 25th 2021
---
Payment Instructions:
PLEASE make all payments by bank transfer to:
ACCOUNT A.E. BISHOP
NUMBER: 1283 1964
SORT CODE: 55-91-00
REFERENCE; YOUR NAME
---
COMPETITION FORMAT
On the Championship Course day 1 & 2 Am-Am (Best 2 Stableford Scores)
On the Channel Course Individual Stableford.
There will be prizes for:
The top 3 teams in each round
The top 3 teams overall
2 prizes for nearest the pin on each round of the Championship course
1 prize for longest drive on each round of the Championship course
All Two's
---
TUESDAY 7TH - WEDNESDAY 8TH JULY 2021

Team No

BURNHAM & BERROW

£100 Deposit paid

£660 paid

Room Sharing

1

Colin Barnard and Geoff Charlton

Stuart Bond & Jonathan Fraser

£50 1.3.21
Stuart £25 8.3.21
Jonathan£259.3.21
1 Twin:


Colin Barnard and Geoff Charlton

2 Singles:


Stuart Bond
Jonathan Fraser

2

Chris Connorton x 1

Adam Grundy x 1

Alan Milburn x 2

Chris £25 8.3.21
Adam £25 8.3.21
Milburn - £100 6.3.21

1 Twin:


Alan Milburn & George Fraser

2 Singles:


Chris Connorton
Adam Grundy

3

Ian Cairns x 4
£100 1.3.21


4 singles:

4

Steve Champion x 4

£100 10.3.21

Steve Champion & Spencer Shaw
Sam Pearce & Anthony Williams

5

Alan Hope x 4
£100 6.3.21
4 singles:

6

Royal Halesownians

£100 10.3.21
£280. 22.3.21



2 twin

Rob Hawthorne 4 & Chris Welsh 10
David Pearson 7& Brian Coldrick 14

7

David Robinson x 4
£100 6.3.21

Prefer 4 singles but happy with 2 twins if necessary.

8

Rob Morgan x 4
Billet with group 14

£100 6.3.21
2 Twin:


Morgan & Crisp
Spencer & Williams

9

Andrew Krakiewicz 6 Martin Chattin 5 Andy Dodd 11 Andy Brown 12

£100 6.3.21
2 Twin:


Andy Krakiewicz & Martin Chattin
Andy Dodd and Andy Brown.

10

Dean Pointon x 4

£100 3.12.20
£660 paid 19.4.21
2 Twin:


Dean Pointon & John Miles
Andy Phillips & Chris Hobbs

11

Dave Brierley x 4

£100 3.12.20 (Henn)
£660 paid 19.4.21
2 Twin:


Dave Brierley & Steve Lewis
Roy Everett & Glyn Everett

12

Chris Hobbs x 4
£100 7.3.21
£660 paid 19.4.21
2 Twin:


Darron Henn & Mike Sandoz
Chris Turner & Scott Evans

13

David Hagger Richard Harrison Robert Smalley Ian Kent


£100 9.3.21



4 singles:


David Hagger
Richard Harrison
Robert Smalley
Ian Kent

14

Dean Napper Mark Hamer Stuart Band Gary Whitby

Billet with group 8

£100 6.3.21
2 twin:


Dean Napper & Gary Whitby
Mark Hamer & Stuart Band

15

Handsworth Men

£100 10.3.21
4 Singles


Dennis Palmer
Gary Thompson
Kebbie Uppal
Ben Banaras

16

John O'Callaghan x 4
£100 6.3.21
£660 15.4.21
2 twin


John O'Callaghan 12 & Dave Walker 17
Mark O'Shea 10 & Rob Harper 19
Reserves & Single Players available to make up teams:
Richard Garbett x 1
Peter Hewitt x 2
Peter Clarke x 3 / 4
| | | | |
| --- | --- | --- | --- |
| | TUE 7TH JULY | | CHAMPIONSHIP COURSE - WHITE TEES |
| TIME | PLAYERS | | |
| 12.36 | TEAM 1 | | |
| 12.45 | TEAM 2 | | |
| 12.54 | TEAM 3 | | |
| 13.03 | TEAM 4 | | |
| 13.12 | TEAM 5 | | |
| 13.21 | TEAM 6 | | |
| 13.30 | TEAM 7 | | |
| 13.39 | TEAM 8 | | |
| 13.48 | TEAM 9 | | |
| 13.57 | TEAM 10 | | |
| 14.06 | TEAM 11 | | |
| 14.15 | TEAM 12 | | |
| 14.24 | TEAM 13 | | |
| 14.33 | TEAM 14 | | |
| 14.42 | TEAM 15 | | |
| 14.51 | TEAM 16 | | |
| | | | |
| --- | --- | --- | --- |
| | WED 8TH JULY | | CHANNEL COURSE - 9 HOLES |
| TIME | PLAYERS | | |
| 9.00 | TEAM 1 | | |
| 9.09 | TEAM 2 | | |
| 9.18 | TEAM 3 | | |
| 9.27 | TEAM 4 | | |
| 9.36 | TEAM 5 | | |
| 9.45 | TEAM 6 | | |
| 9.54 | TEAM 7 | | |
| 10.03 | TEAM 8 | | |
| 10.12 | TEAM 9 | | |
| 10.21 | TEAM 10 | | |
| 10.30 | TEAM 11 | | |
| 10.39 | TEAM 12 | | |
| 10.48 | TEAM 13 | | |
| 10.57 | TEAM 14 | | |
| 11.06 | TEAM 15 | | |
| 11.12 | TEAM 16 | | |
| | | | |
| --- | --- | --- | --- |
| | WED 8TH JULY | | CHAMPIONSHIP COURSE - YELLOW TEES |
| TIME | PLAYERS | | |
| 13.06 | TEAM 1 | | |
| 13.15 | TEAM 2 | | |
| 13.24 | TEAM 3 | | |
| 13.33 | TEAM 4 | | |
| 13.42 | TEAM 5 | | |
| 13.51 | TEAM 6 | | |
| 14.00 | TEAM 7 | | |
| 14.09 | TEAM 8 | | |
| 14.18 | TEAM 9 | | |
| 14.27 | TEAM 10 | | |
| 14.36 | TEAM 11 | | |
| 14.45 | TEAM 12 | | |
| 14.54 | TEAM 13 | | |
| 15.03 | TEAM 14 | | |
| 15.12 | TEAM 15 | | |
| 15.21 | TEAM 16 | | |