Sutton Coldfield 20.10.21
We had a lot of water on Tuesday night. I know because my barge rose six inches on its mooring on the Trent.
On Wednesday morning I drove through some equally torrential rain. I arrived at 8.30 to a bit of uncertainty about the course conditions and the possibility of a closure. This is a very rare event at Sutton. I believe it is possibly the best draining course in the West Midlands.
Fortunately by 9.30 the rain had stopped and by 10.30 large patches of blue sky were appearing. Apart from a 10 minute lightning delay at 12.00, all went well.
I don't think I'm being unkind when I say that the clubhouse was looking tired the last time we were here.
What a transformation! A contemporary refurbishment that has given a light, airy feel to the whole place is most impressive. It is now a lovely place to socialise. Needless to say, many players stayed on afterwards to drink and chat, rightly justifying the clubs well thought out expenditure.
Much course work is also ongoing and I'm sure the improvements will be noticeable by this time next year.
---
Thoroughly unpleasant behaviour:
The only thing that spoilt the day was the unacceptable behaviour of one player. He argued with his team mates, he argued with me, he even argued with Sutton's Professional, Pat Brady and all because he doesn't understand the WHS. Pat and I both tried to explain it to him, with the aid of the relevant slope tables, but he staunchly refused to be enlightened.
Furthermore, he accused me of not listening to him and not telling him the truth. He even bet me £10 that he was right!
According to his team mates, he was still arguing about it on the journey home.
His team mates were very upset and their embarrassment was palpable. They apologised profusely on his behalf.
He is not welcome at any future events.

This is only the second time in six years that this has happened. I sincerely hope that it never happens again. Teetours Society days are usually convivial, fun days and I will continue to do everything possible to perpetuate that.
---
My thanks go to Gary Ferrar, Mark Fieldhouse, Tony Fearing and sole Teetours-Totty standard bearer, Anne Wardle for stepping in to complete two of the teams.
Anne can be seen here demonstrating how to slip through the gates that surround the greens. She explained that, among the ladies, these are known as the FT index - if you can't get through then you are officially a Fat Tart.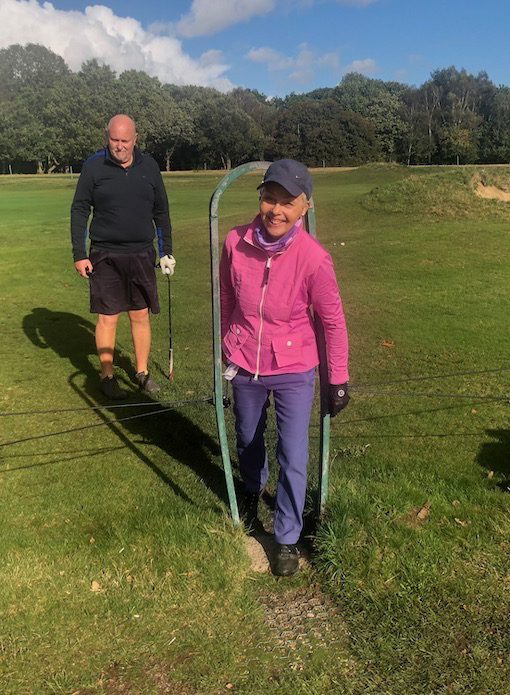 Pos

Player Pairings

Points

O.O.M.

1

Stephen Morley 24.4 Nick Lake 12.9 Dave Long 19.7 Ryan Lugg 7.0

93

12

2

Alan McPeake 21.5 Byron Cowen 16.9 Dave Cooper 16.2 Lee Hill 16.3

92

10

3

Martin Dunn 15.2 Eamon Revill 16.1 Greg Revill + 0.4 Richard Tart 8.9

88

8

4

Robin Fenn 7.8 Liam Fenn 5.3 John Waterson 10.3 Ben Standley 15.4

86

6

5

Mike Myers 8.5 Steve Bennett 3.2 Steve Neale 0.2 Jeff Thomas 6.3

86

4

6

Stewart Wardrop 16.3 Hanif Bhula 12.6 Tony Fearing 9.8 Anne Wardle 14.4

86

2

7

Nick Chauhan 16.2 Roger Meredith 10.0 Simon Wingfield 3.2 Daniel Heap 3.6

85

8

Geoff Davies 18.2 Carl Mander 2.1 Martyn Pearce 7.6 Stuart Murray 11.2.

84

9=

Leisure Old Boys: Phil Beswick 8.2 Ian Williams 13.3 Nick Harrold 16.5 Tim Worley 13.6

83

9=

Steve Upton 10.4 Derek Skett 8.6 Grahaeme Dodge 6.3 David Yarranton 11.3

83

11

John Poole 10.2 Martyn Walker 1.1 Martin Dickinson 5.3 Dave Middleton 6.4

82

12=

Dave Armani Clark 15.1 Lindsay Rowley 18.2 Steve Smytheman 13.7 Alan Kyte 10.6

81

12=

Dave Sheppard 3.8 Steve Pritchard 6.4 Sandy Johnston 5.4 Mungo Munro 12.5

81

14=

Ray Ebberley 16.8 Kevin Doherty 9.7 Phil Shelton 13.2 Steve Jary 13.4

80

14=

Ivor Chamberlain 16.3 Steve Eaglefield 3.9 Chris Bailey 13.2 Neil Docksey 15.2

80

14=

Phill Adcock 3.7 Tony Stacey 7.8 Gerry Latter 2.3 Steve Coates 4.4

80

17=

Robert Hill 17.7 Terry Hill 18.2 Will Brewin 10.1 Mark Davis 14.4

79

17=

Chris Johnson 13.6 Steve Terry 17.1 Gary Ferrar 12.4 Mark Fieldhouse 7.1

79

19

Charlie Spear 22.7 Anthony Omo Dare 15.8 Martin Furber 15.5 John Ward 10.2

78

20

John Langley 5.9 Jim Oswald 12.2 Mike Broster 6.8 Henry Szyndler 16.1

72

Ryan Lugg

Nearest pin 9

Nick Chauhan

Nearest pin 13

Phil Adcock

Long Drive 3

Two's

Byron Cowen; Dave Yarranton; Dave Sheppard; Mungo Munro; Ryan Lugg; Stevie Neale; Phil Shelton; Chris Bailey; Mike Broster.

Prizes for the top 5 teams; Nearest the Pin, Longest Drive and all 2's