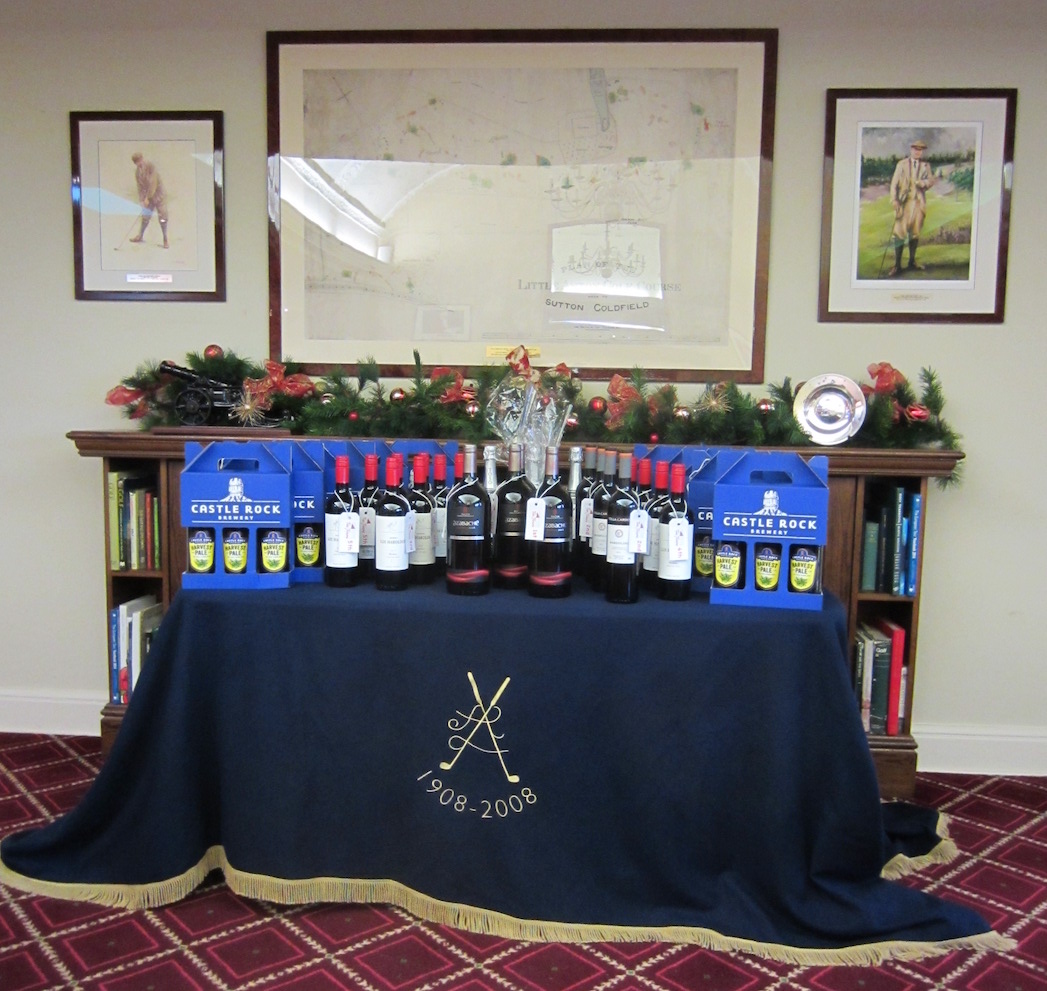 At Teetours events it is very relaxed and we don't expect anyone to stay for the very informal prize giving at the end.
Obviously, this means that some prizes are not claimed on the day of the competition.
I try to anticipate when players will come to events, in order to deliver prizes to them but sometimes it is difficult, as not all the players names are registered at that event.
Furthermore - some players are NOT registered on the system so I have no way of notifying them that they have won. - So I need to impose a rule:
PRIZES CAN ONLY BE CLAIMED BY PLAYERS WHO ARE REGISTERED AS TEETOURS SOCIETY MEMBERS - IF YOU ARE NOT ALREADY REGISTERED, OR YOU NEED TO UPDATE YOUR DETAILS - CLICK THIS LINK
Please see below the current list of prizes I am holding - if a player is listed as NR it means they are Not Registered.
If you are playing at a forthcoming event and you would like me to bring your prize so that you can collect it please let me know by EMAIL using the button below:
| | | | | | |
| --- | --- | --- | --- | --- | --- |
| JAMIE | LAFFORD | LILLIE BROOK | Forest of Arden | 15.12.16 | NTP |
| JAMIE | LAFFORD | LILLIE BROOK | Forest of Arden | 15.12.16 | 2ND |
| ALAISTAIRE | MORGAN | LILLIE BROOK | Forest of Arden | 15.12.16 | 2ND |
| CHARLIE | HANKS | LILLIE BROOK | Forest of Arden | 15.12.16 | 2ND |
| WILL | SPIERS | LILLIE BROOK | Forest of Arden | 15.12.16 | 2ND |
| Paul | Edwards | MATLOCK ? | Sutton | 24.10.16 | 4TH |
| IAN | WAITE | MATLOCK | Sutton | 24.10.16 | 4TH |
| STUART | BAKER | NR | Sutton | 24.10.16 | 4TH |
| JOHN | SIMMONS | NR | Sutton | 24.10.16 | 4TH |
| RICHARD | HAYES | | Sutton | | 2'S |
| RICHARD | HAYES | | Sutton | | 2'S |
| PAUL | KEYSEY | NR | Worfield | 10.2.16 | NTP |
| DARREN | SUMNER | WYCHWOOD PARK | Ingestre | 12.4.16 | 1ST |
| EDDIE | STIRLING | WYCHWOOD PARK | Ingestre | 12.4.16 | 1ST |
| KRISTIAN | OAKES X 2 | WYCHWOOD PARK | Ingestre | 12.4.16 | 1ST |
| PAUL | RIDGWAY | WYCHWOOD PARK | Ingestre | 12.4.16 | 1ST |
| JOHN | SMALLMAN | LUDLOW | Sutton | 24.10.16 | 4TH |
| NEIL | WILSON | OSWESTRY | Enville | 9.12.15 | 2ND |
| PAUL | WILSON | NR | Sutton | 17.12.15 | NTP |
| NICK | WALLEY | COSBY | Forest of Arden | 15.12.16 | 4TH |
| PAUL | WATSON | LONGCLIFFE | Forest of Arden | 15.12.16 | 4TH |
| DAVID | JOHNSTON | NR | Forest of Arden | 15.12.16 | 4TH |
| CHARLES | PARKER | ROTHLEY | Forest of Arden | 15.12.16 | 4TH |
| KEVIN | POOLE | LUTTERWORTH | Sutton | 24.10.16 | 2ND |
| PETE | DAVIES | STRATFORD OAKES | Little Aston | 24.2.16 | NTP |
| PETER | WARD | NR | Walmley | 9.9.16 | NTP |
| WILL | THOMPSON | RUSHCLIFFE | ENVILLE | 20.12.16 | 3RD |
| SAM | HOLLIES | THE STAFFORDSHIRE | ENVILLE | 20.12.16 | 4TH |
| NICK | WELLSBURY | PENN | ENVILLE | 20.12.16 | 4TH |